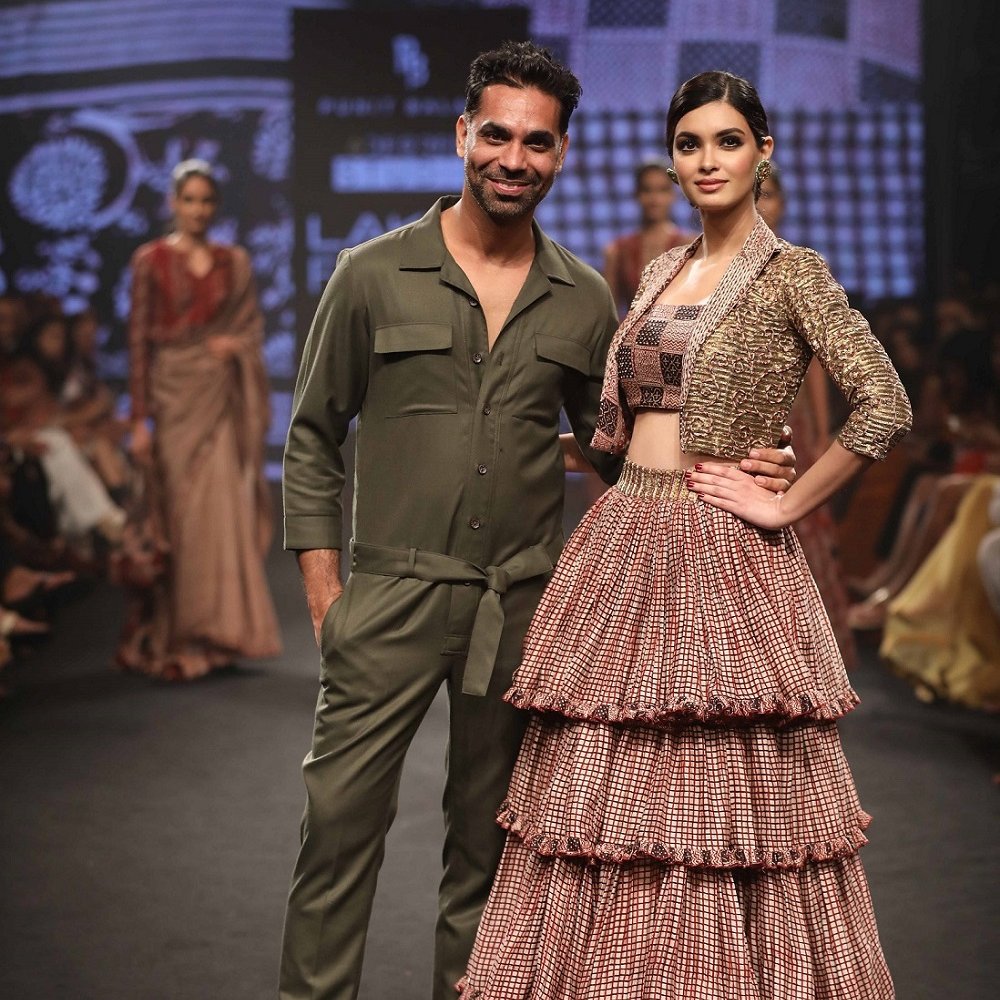 Lakme Fashion Week Summer/Resort 2018 took place at Jio Garden Mumbai on January 31 till February 4. The event was filled with multiple designers who were spotlighted one more time with their aesthetic collection along with that Lakme Fashion Week kept its promise by introducing new talented designers who made their debut in the event. From hand-painted fabrics to the waste fabric, that was nothing that remained unused in the collection. Along with fashion models, Bollywood celebrities walked for the designers with a glamorous suave.

Here we are enlisting the highlights of the whole 5-day event of Lakme Fashion Week Summer/Resort 2018

Song Of Summer By Anita Dongre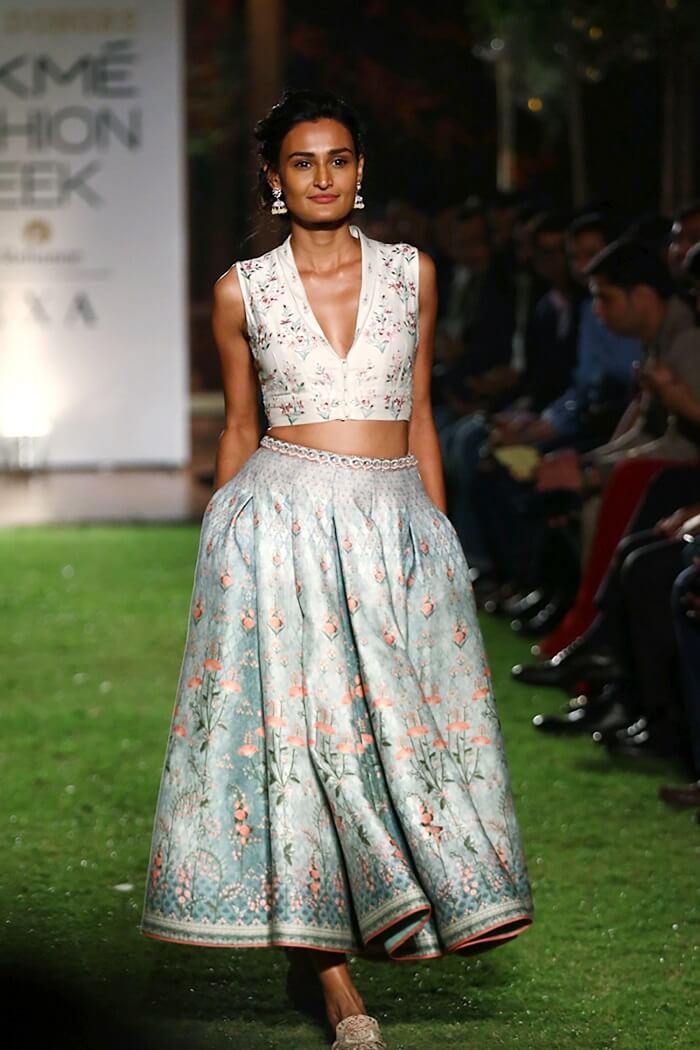 Anita Dongre showcased her collection titled 'Song of Summer'. The theme of the collection was completely aligned with the name of the collection. Subtle pastels, light fabrics with floral motifs made her collection mix of the summer apt picks. Experimenting with the traditional wear such as draped saris and lehengas with the lightweight fabrics was all that caught the eyes of everyone out there. It was clearly understood by her collection that Dongre wanted to give Brides and Grooms some classy options who are getting married in piping-hot summer.

Rara Avis by Sonal Verma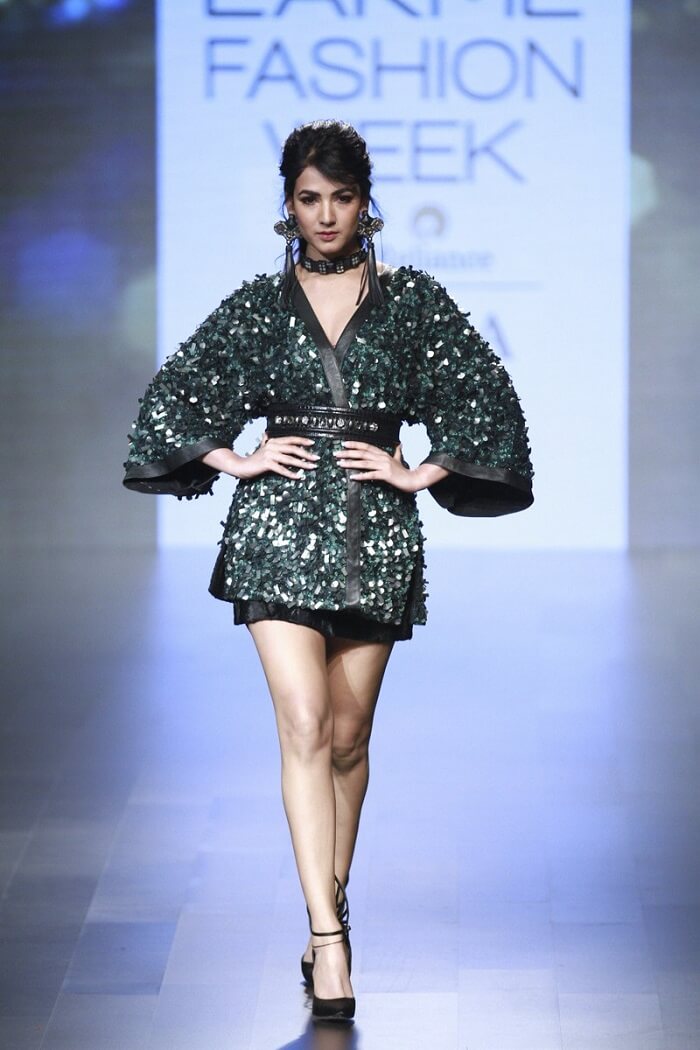 Inspired by African motifs, Sonal Verma's collection was comprised of funky prints, beadwork, textures and cutouts, and hand embroidery which was used the most in her collection. Safari dresses, coats, jumpsuits, blazers, skirts, jackets, formal gowns, and quilted vests were showcased on the runway along with some intricate accessories. Embroidered belts and bags made the whole look charming and astonishing.

Label Ritu Kumar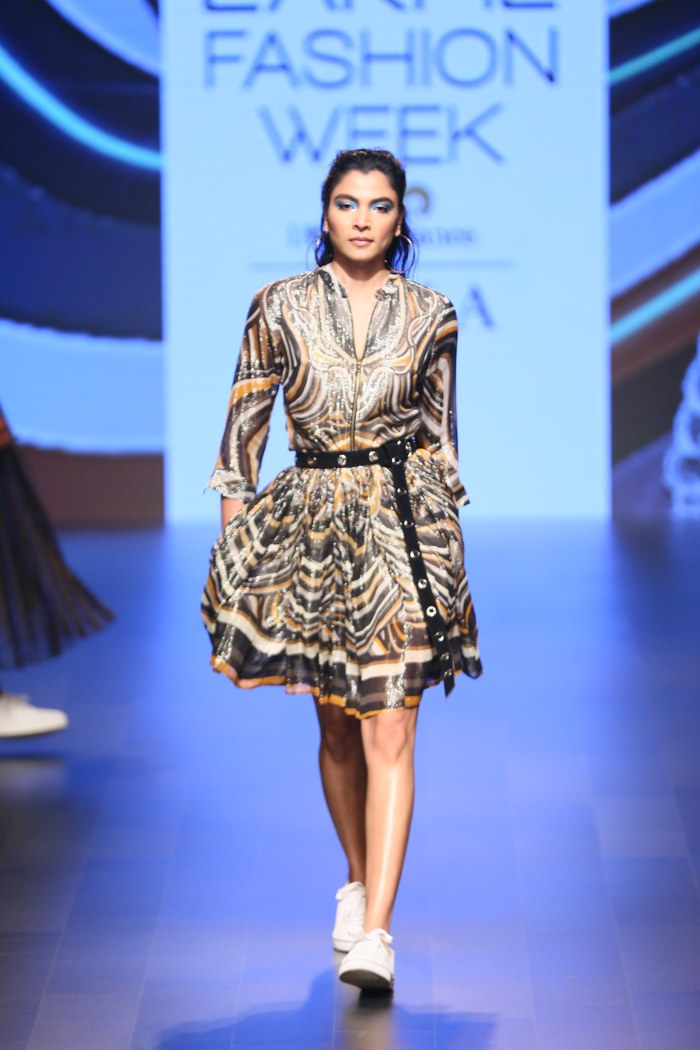 Ritu made a perfect blend of vintage delinquent style with trendy fabrics. Vibrant colors and sassy patterns made by the textiles of shimmer, jerseys, lurex, georgettes, handlooms, and sequins were made her whole collection extravagantly vivacious. Her collection was an array of quirky creations such as metallic T-shirts, flared minis, maxis, gowns inspired by sais, micro-mini skirts, velvety capris, and pantsuits. To add more excitement, embroidered jeans paired with a long-sleeved blouse with embellished waist pouch was the perfect catch there.

Naushad Ali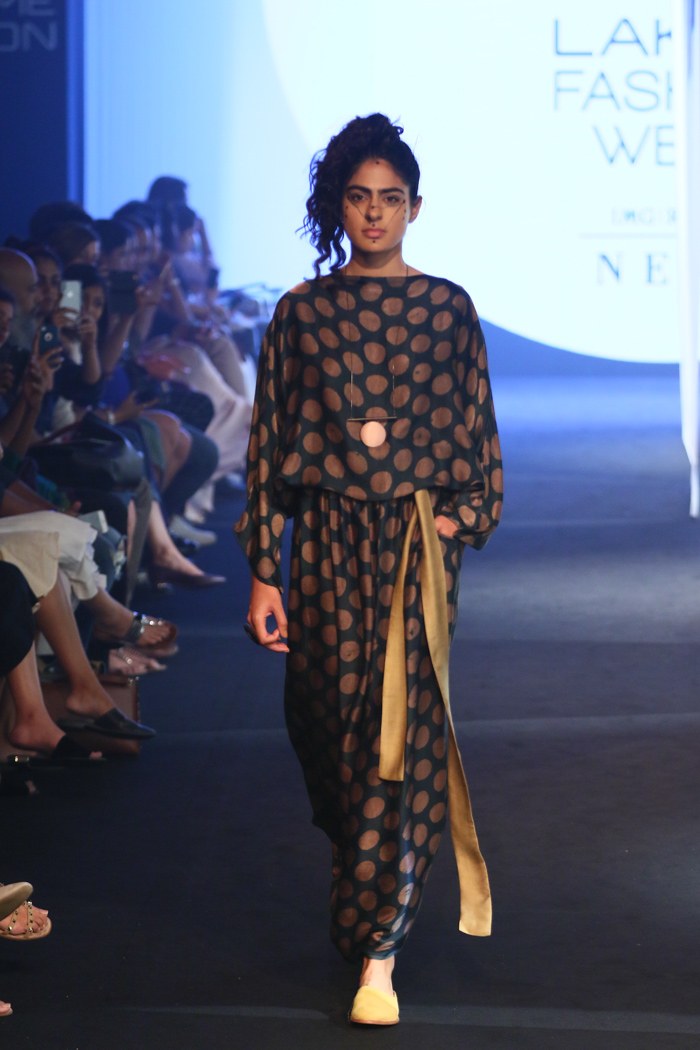 Naushad Ali kept his collection entangled with an array of colors such as indigo, yellow, black, grey and red and infused them with the fabrics of silk, bamboo, cotton, crepe, and linen. Her collection stood out for comfortable yet stylish jackets, dresses, skirts, and trousers.

Amrich, 'Ties That Bind'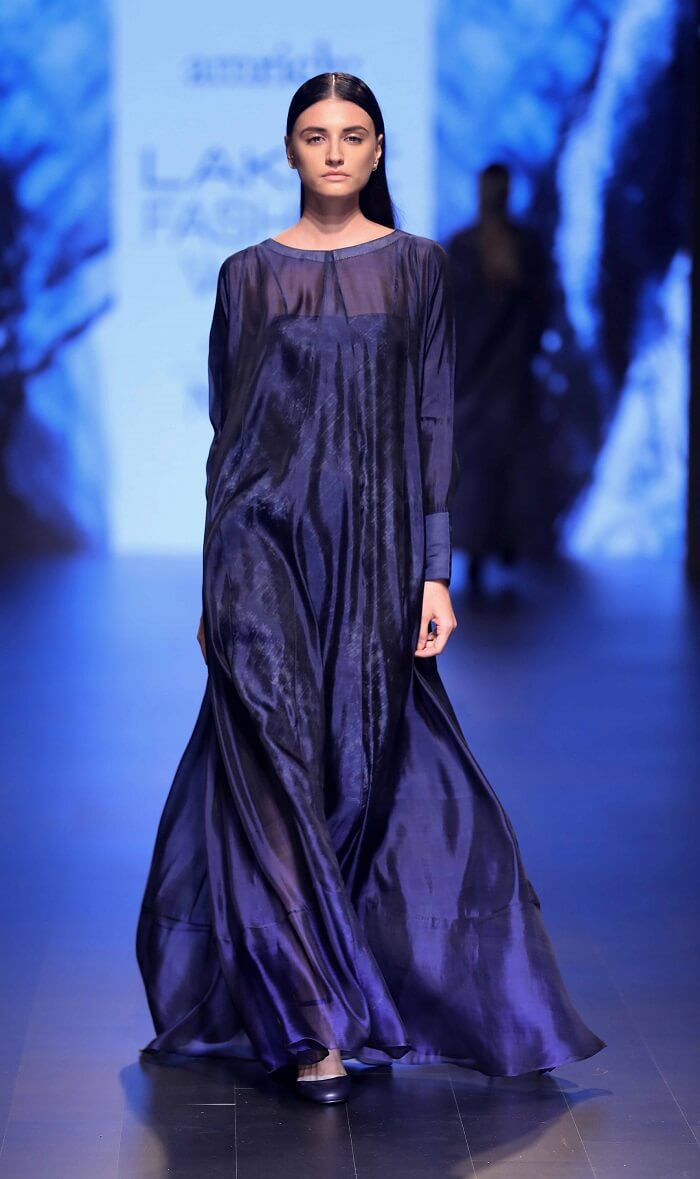 Richard Pandav and Amit Vijaya came up with an interesting infusion colors and fabrics. Textiles like Silk, khadi, and cotton were used to make geometric prints with the hues of mustard, brown, black, red, white and blue. Skirts, jackets, robes, bermudas, white color shirts, jackets and flared midis were the designs that won the hearts of all the fashionistas.

Ragini Ahuja's Ikai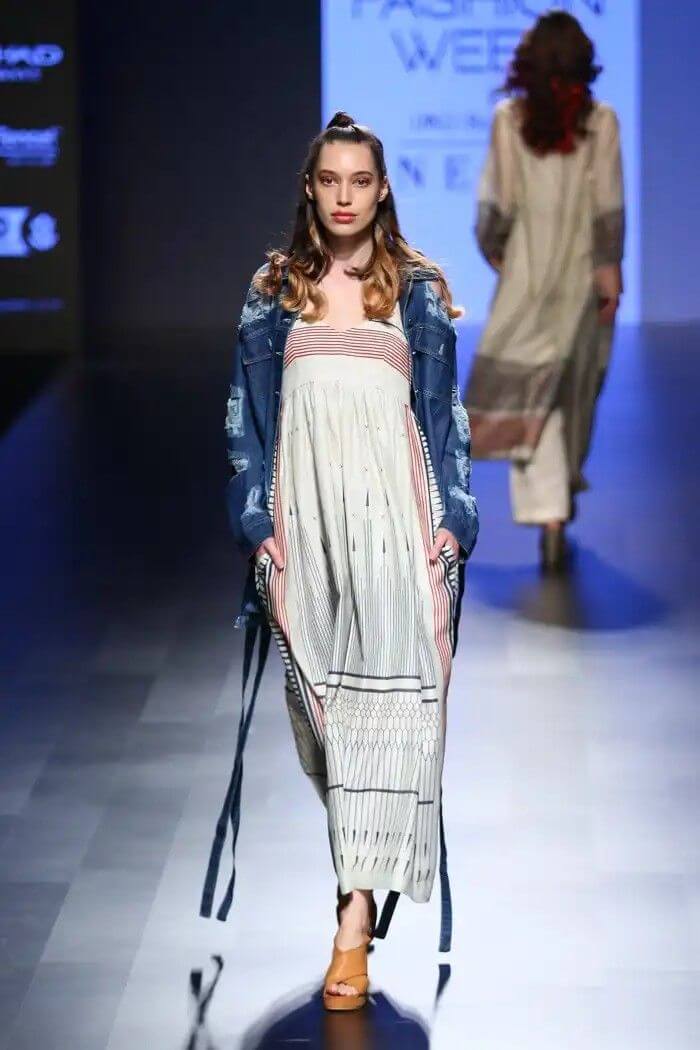 Playing with creativity by keeping hands on comfortability was quite visible in the collection 'Ikai'. Lots of denim and leather made the whole collection bespoke and creative. Techniques like 'Shibori' were used to redefine comfort with the oversized silhouettes.

Prahara by Urvashi Kaur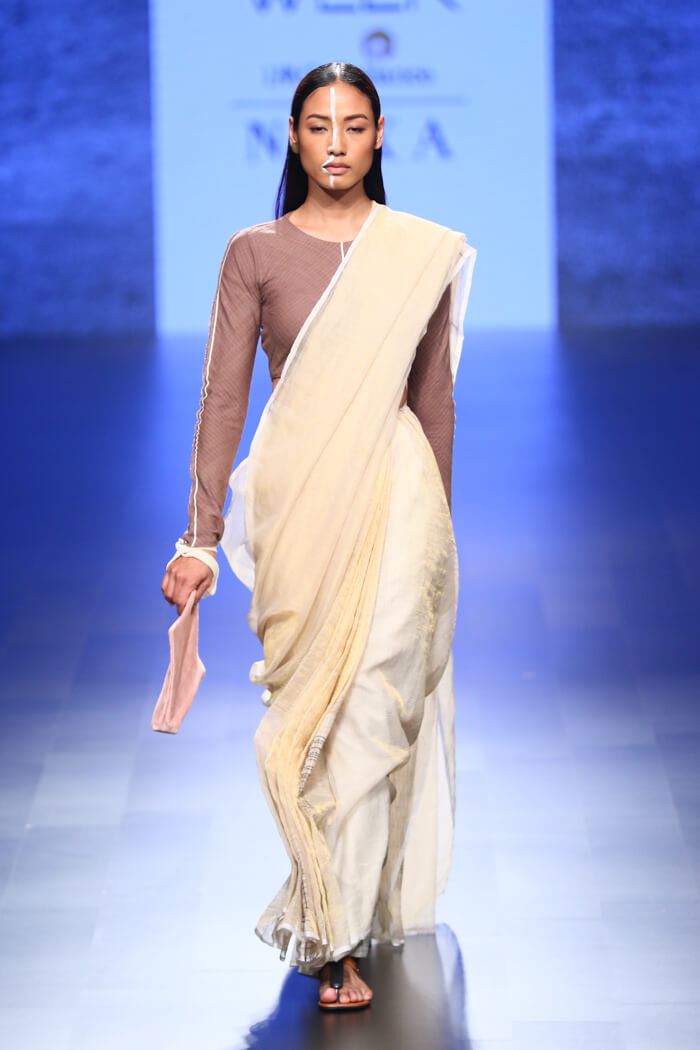 Easy dressing was the axis of the whole collection showcased by Urvashi in her collection "Prahara". Designs like linear patterns with handwoven fabrics like 'Khadi' and 'Kota Doriya' made her collection classy yet edgy. The color palette of grey, blue and black were used with the techniques of Hand tucking, micro-pleating, block-printing, shibori, and leheriya dyeing. Collection was a mix of tailored shirts, skirts, jumpsuits, saris, cropped-tops and jackets in womenswear. In menswear, she showcased sheer coats, draped pants, and baggy crotch salwars in the collection.

Dhruv Kapoor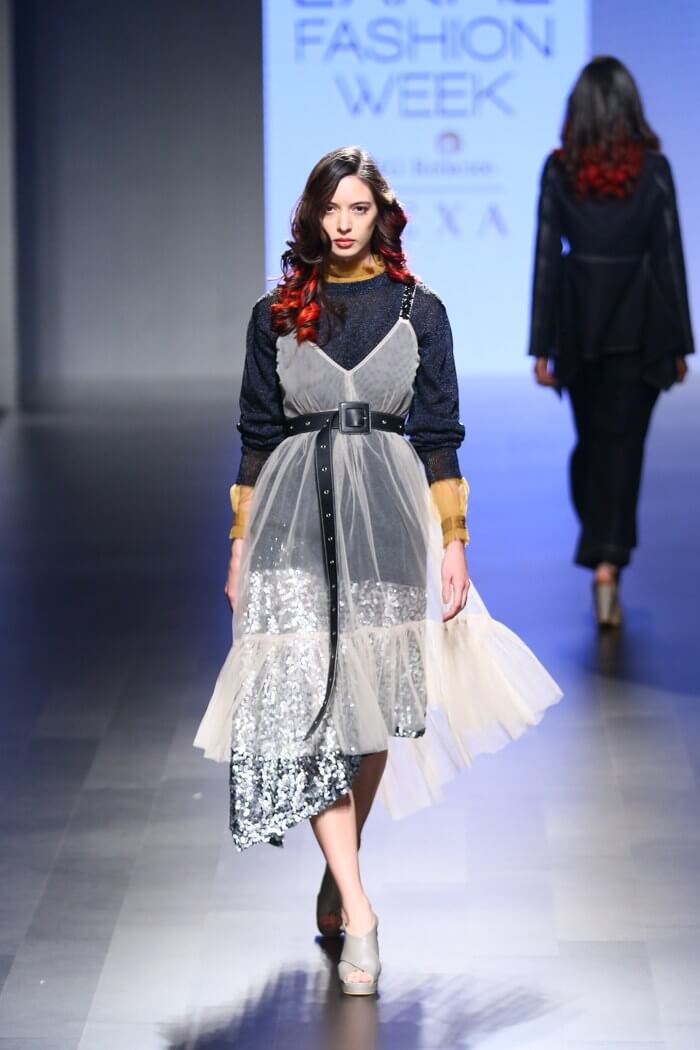 An infusion of African and Japanese artistic styles was the inspiration for the collection. From floral and simple prints to denim, this composition of fashion wear creatively used with crunchy accessories like oversized belts and leather made clutches made the collection exclusive and heart robbing.

'half Full | CURVE' by Rixi & Tinka Bhatia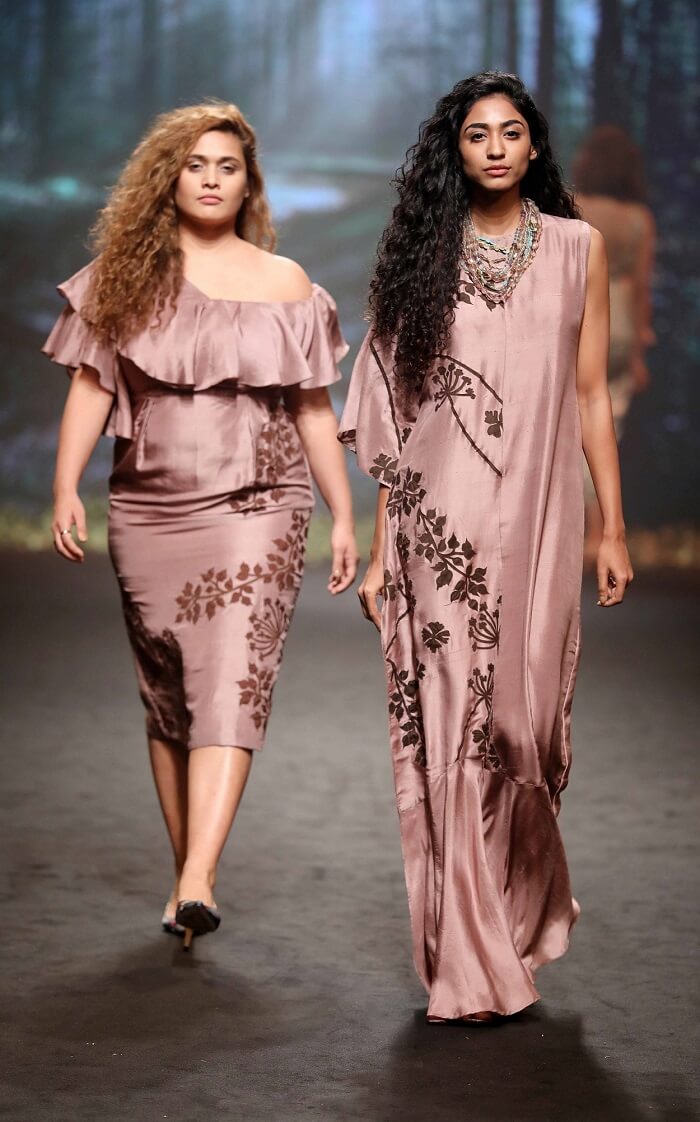 Through this collection, designers promoted body positivity in the Lakme Fashion Week. Fabrics like pure georgette, chanderi, dupion silk were taken to design lungi-style draped skirts, jackets, kurtas, dhoti, and palazzos. Through thread work, sequins, beadwork and with plenty of appliques, the designs were made to surprise.

Debut Designers featured on the Day 1 of Lakme Fashion Week by GenNext

Ayushman Mitra's Bobo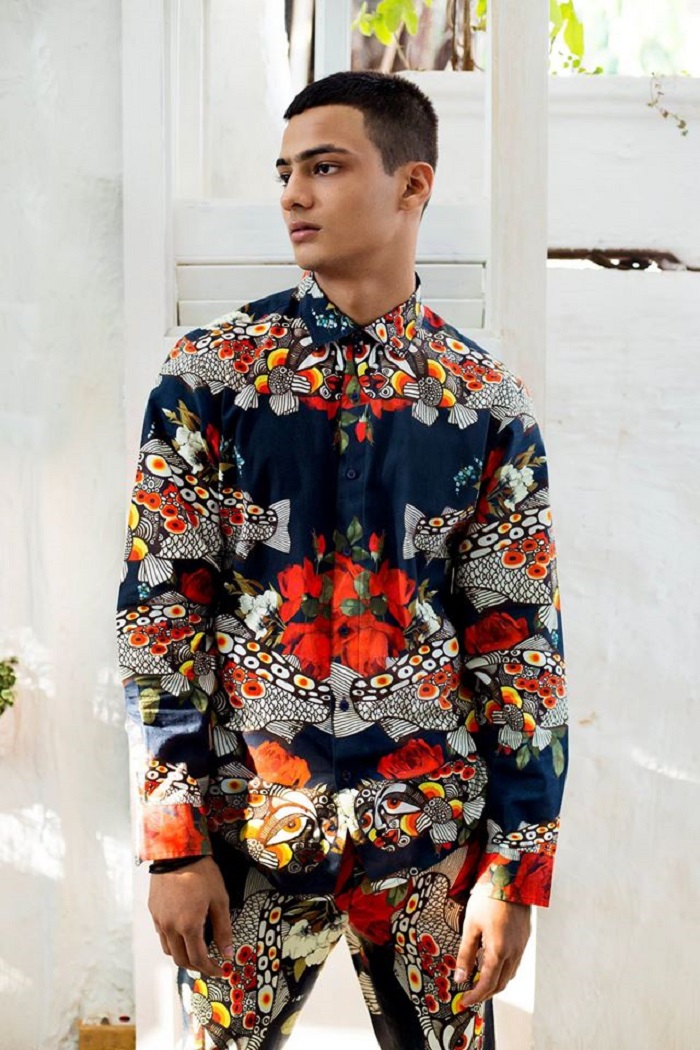 Calcutta based designer used his paintings as an inspiration to design his collection which was unapologetically loud and appealing.

Padma Raj Keshri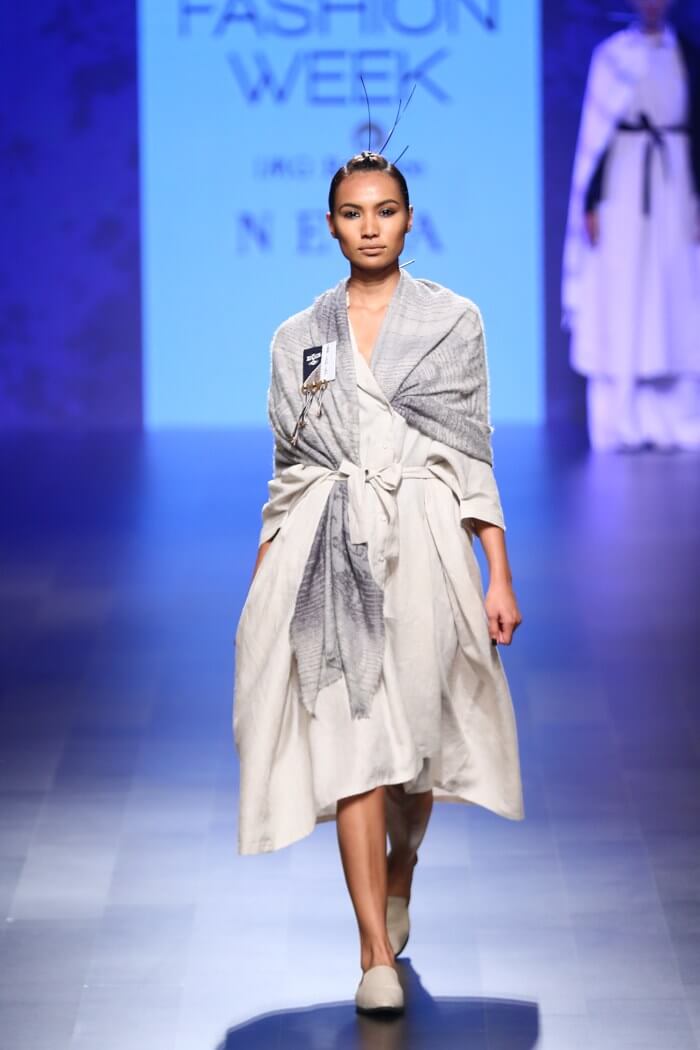 In his collection, Padma Raj Keshari holds the theme of Indianness while using contemporary fabrics like linens and wool of yak and pashmina.

Two Point Two by Anvita Sharma and Asit Barik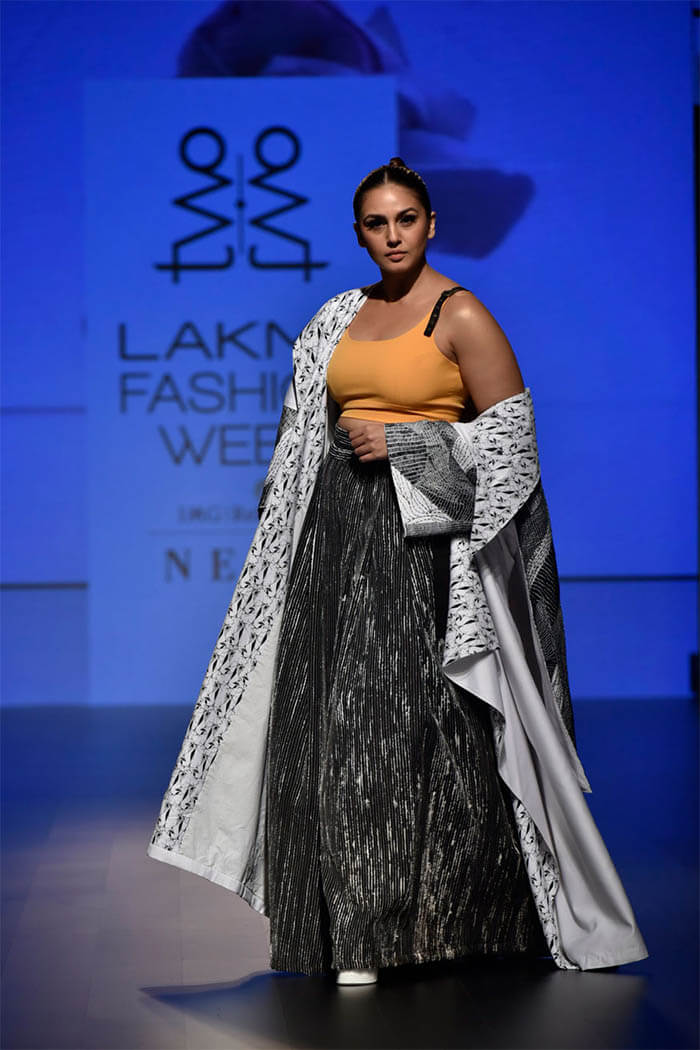 This particular collection was much influenced by the imperfections and that is the reason they used waste fabric to made their design. Designs were yet detailed and teamed with easy silhouettes.

Helena Bajaj Larsen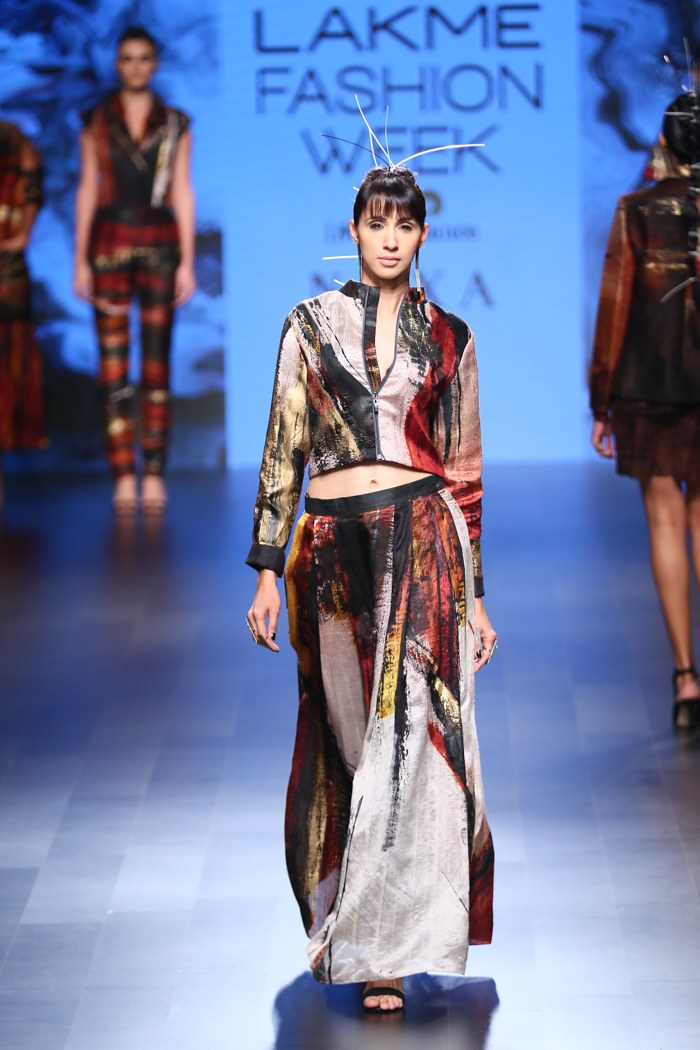 Designs were intricate and well-textured through hand-painted fabrics in which she holds years of experience. Her collection looked effortlessly inspiring and tasteful. Her inspiration was simply the environment of which we are a part of but the way she redefined it, was quite enough to leave us to spell bounded.

Showstopper Stars on Runway

Shahid and Meera walked Anita Dongre's bride and groom collection.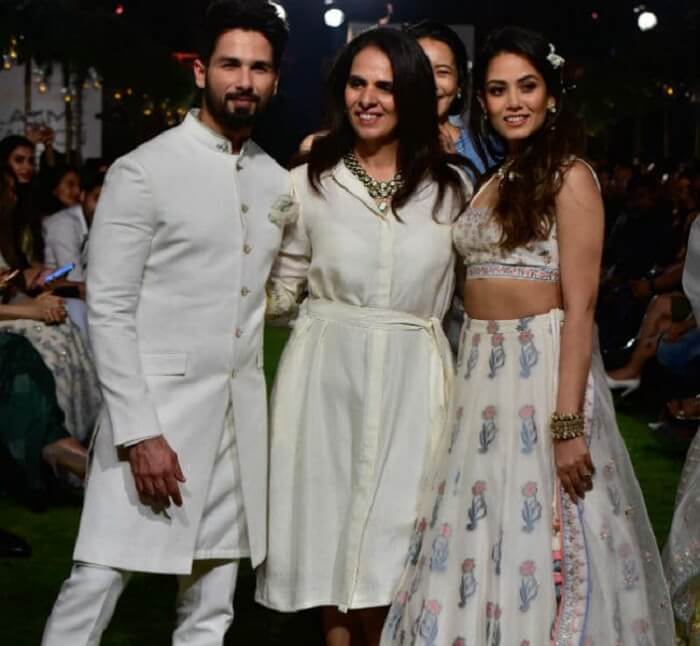 Tapsee Pannu showcased the design by Ritu Kumar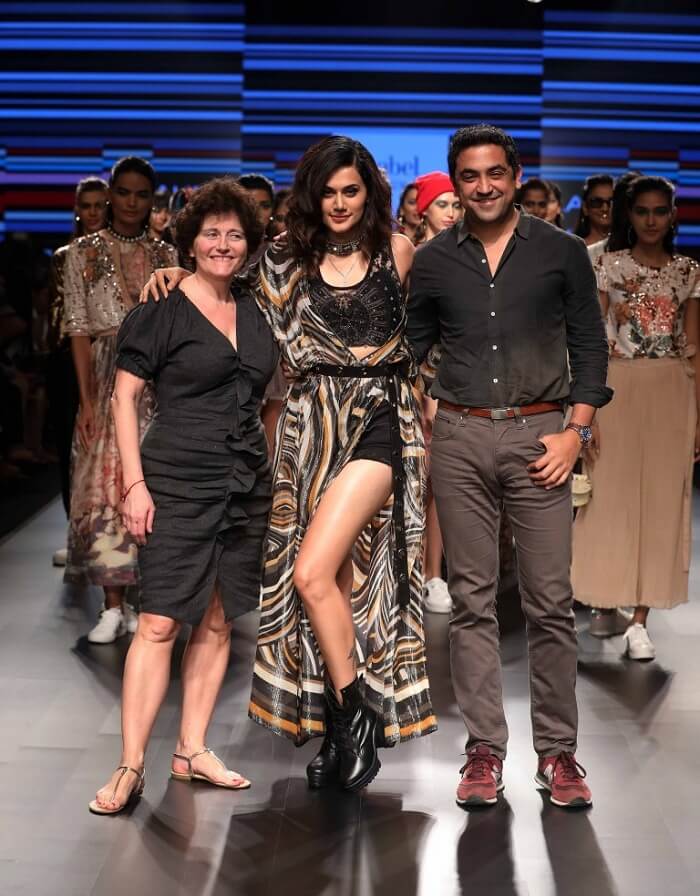 Charming look of Saif Ali Khan walking for Shantanu & Nikhil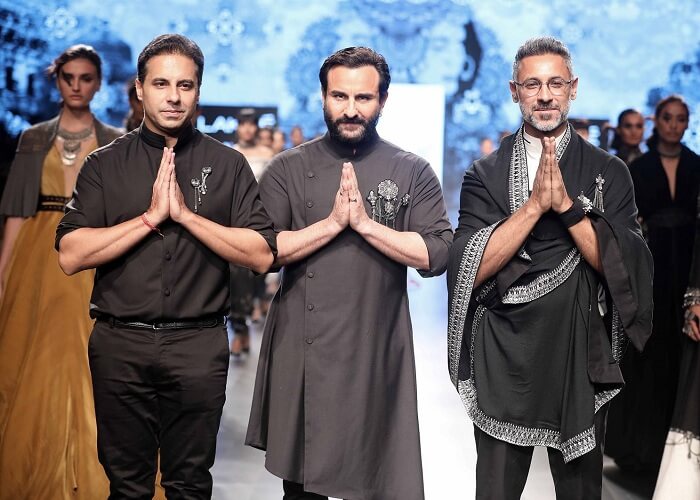 Timeless Sushmita Sen walked for House of Kotwara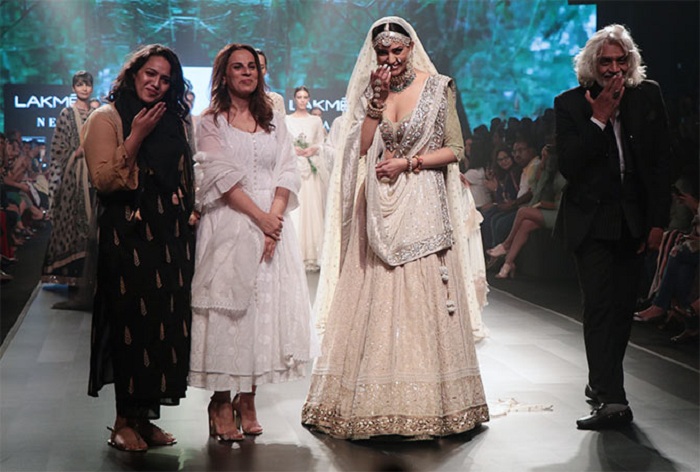 Showstopper Aditi Rao Hydari for Payal Singhal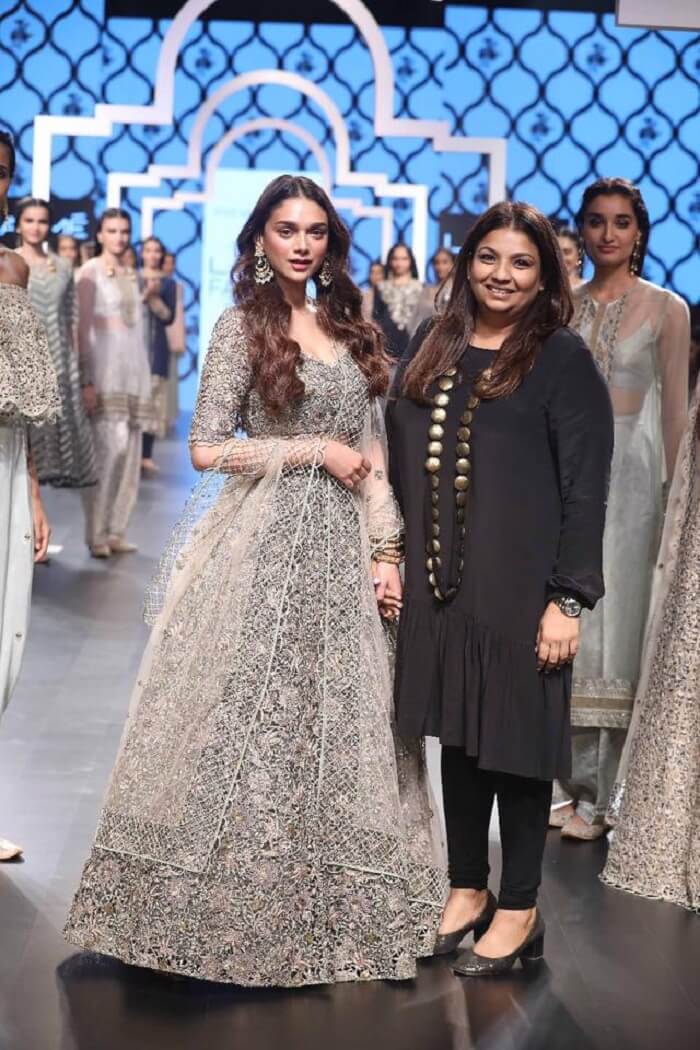 Bipasha Basu in red color embezzle by Reshma Kunhi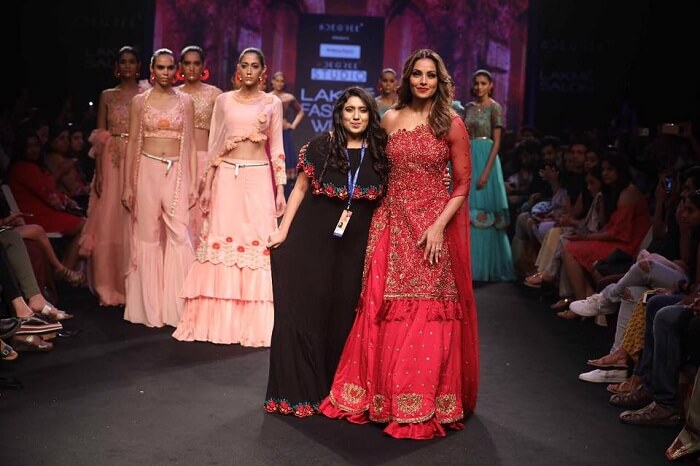 Nidhi Agarwal flaunted as Showstopper for Shloka Sudhakar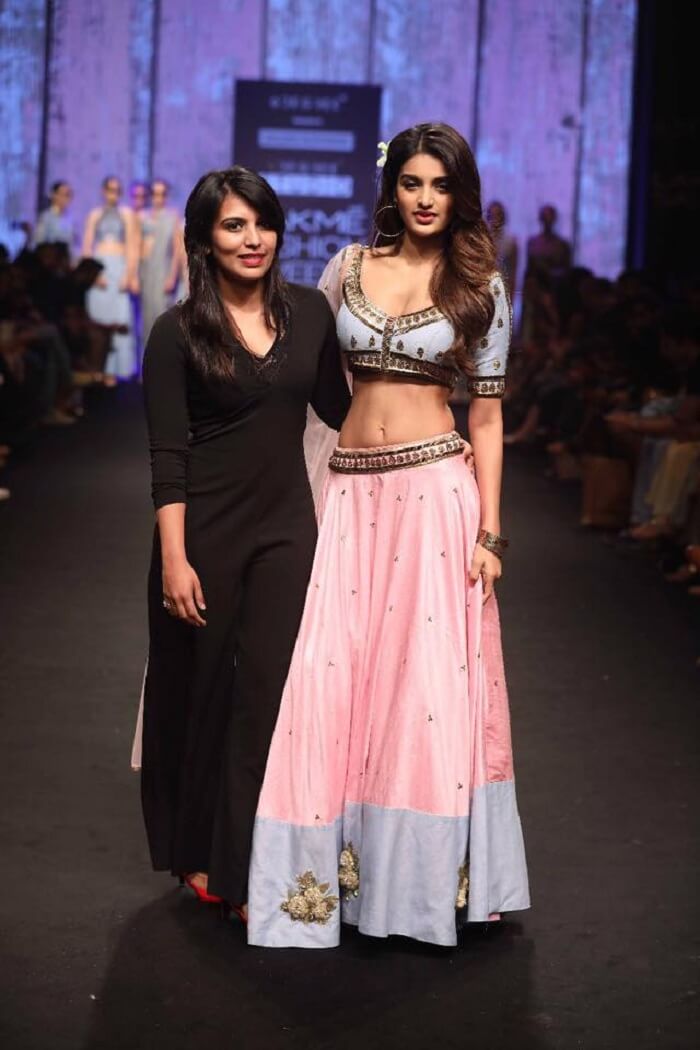 Actress Tamannah Bhatia for Ashwini Reddy's collection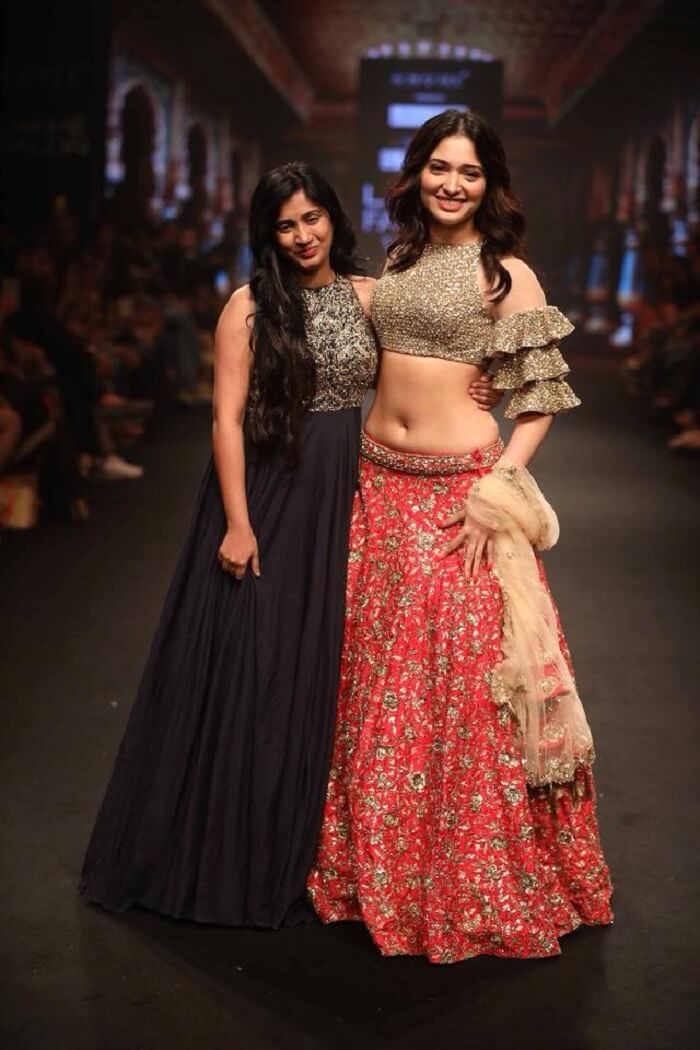 Alluring Disha Patani walked on Runway for Shriya Sen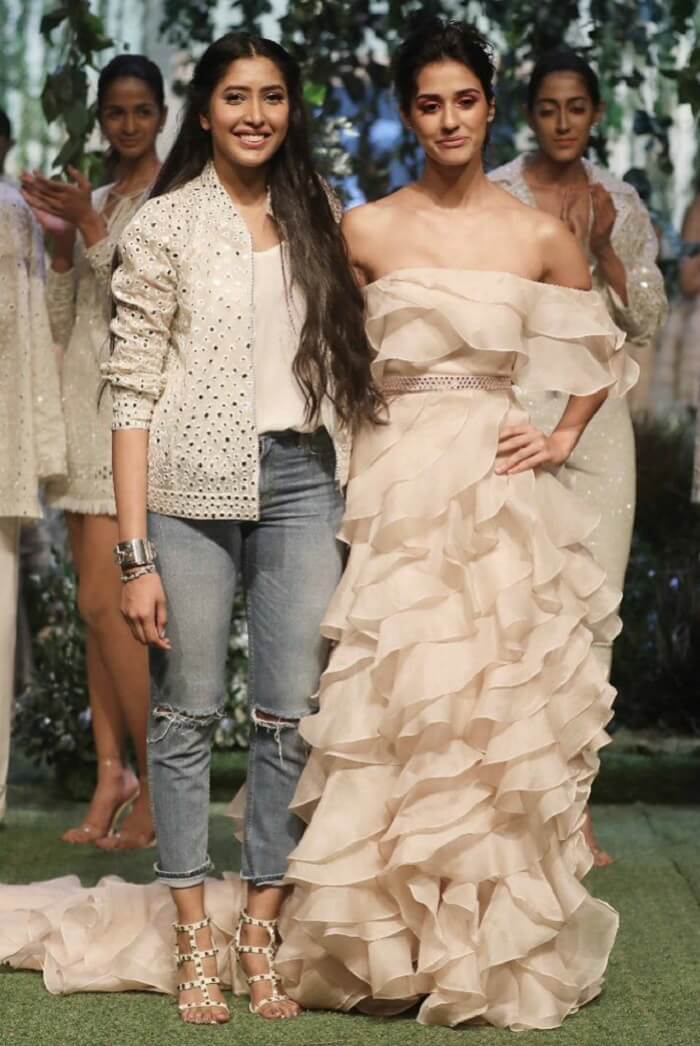 Sania Mirza- showstopper for Anushree Reddy